Sport climbing in Arco, Italy
Arco and the whole Sarca valley area are a dreamland for anyone into sport climbing or multi pitch. The area has an amazing combination of a beautiful scenery with lakes and olive fields, massive amount of rock, friendly atmosphere and good food. It's no surprise that the area has became one of the most popular climbing destinations in Europe. The rock is excellent quality limestone and most of the routes are on vertical or slightly overhanging wall. Technical routes with crimps, edges and pockets are well presented, but you can also find crazy overhanging caves here. Due to the long history and amount of climbers, some of the routes are rather polished but as there's more than hundred sectors to explore so it's not hard to find places with great friction. In addition, thanks to the crazy amount of rock in the area, new sectors are still opened every year! The amount of sectors also guarantees that even during the high season you're able to find peaceful and quiet crags. Gradewise Arco has something for everyone. There's multiple crags with 4-5 grade routes which are very well bolted, so even first-timers can have plenty of fun here. For those looking for harder grades there's endless amount of routes to choose from. Just check the grade distribution from the crag pages below and find the most suitable sector for you! If you're traveling with kids Arco is an excellent place for them too. Many crags have short approach and friendly surroundings for the little ones. When people talk about Arco, they often refer to the whole Sarca valley area where the climbing is. Besides the climbing around Arco, there's dozens of crags more to the north close to Trento and Rovereto. So when choosing your accommodation you have plenty of options when it comes to the location of it. For the rest days Arco has a lot to offer. You can have a nice rest day by the lake, go do some mountain biking, try kitesurfing or windsurfing, snorkling...The possibilities are endless for anyone who likes to be outdoors. In addition there's multiple restaurants to choose from and climbing shops to get the gear you need. The Sarca valley has a rich climbing history dating back to 1930s when the first routes were opened. The development speeded up rapidly in the 1980s when modern sport climbing arrived to Arco. Dozens and dozens of climbers have dedicated their time and effort for making Arco what it is now and enabled us all to enjoy the rock in the area. As always, please respect the rock, the nature and the work done by the local developers. As many of the crags are located on private land, behaving correctly is important. The Premium topos in 27 Crags are constantly updating as more routes are documented and bolted! These topos are made by Nicola Trenti and Luca Onorevoli who live in the area, know the crags like their own pockets and are enthusiastic bolters. By using these topos you also contribute to the development of Arco.
Arco topos
11630 routes in 128 crags
---
Photos
944 photos shared by 55 climbers
---
---
Travel info
Best season
Climbing is possible throughout the year, best season is September-November and February-April.
How to get there?
Flying to Munich, Venice, Milan or Bologna and renting a car. Car is recommended to move around easily.
Where to sleep?
Plenty of accommodation options from hotels to campsites and AirBnB's.
Other activites
Mountain biking, water sports, hiking...
---
Get Arco climbing guide to your smartphone
The most detailed climbing guide from Arco starting at €2.91 / month.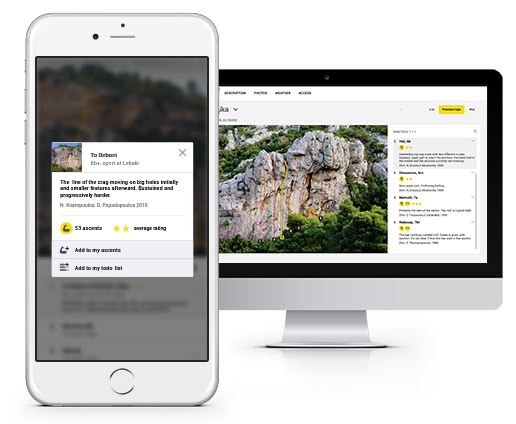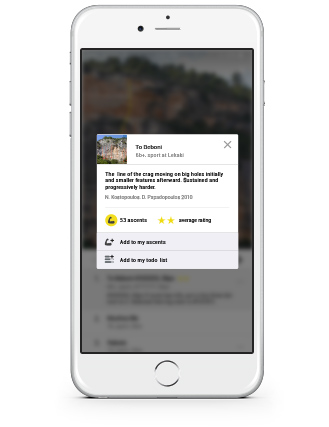 11630 climbing routes with high-quality topo images and detailed descriptions from Arco
The subscription also includes access to other 3303

Premium

crags around the world
Find crags and boulders with ease using in-app GPS
Use topos even when there's no Internet connection