Climbing in Baunei, Sardinia
If you'd like to climb great limestone routes and enjoy peaceful crags in an amazing environment, then the paradise-like Baunei in Sardinia is a great option. 🧗‍♀️🧗‍♂️ Baunei offers top quality limestone with plenty of sport routes, and there's a nice variety of styles, route lenghts and grades. The most common route type is a vertical slab with crimps, pockets and waterdrops, and as a contrast, there's some steep routes on damn hard tufas! The quality of the rock is mostly excellent, and good at the very least. Majority of the routes are on grey, white or orange limestone, but there's some granite as well. Most sectors offer an amazing panorama and you'll pretty much climb in postcard style crags. 🌿 Baunei is situated in Ogliastra area - a province in the east of Sardinia which combines amazing sea and mountains over 1000m. The region is the least developed in Sardinia and still very unspoiled. People are nice and warm, the landscapes are stunning and the food is great. To get an impression of the scenery, just browse the pictures in these topos or Google "Pedra Longa". That is the environment you'll be enjoying! Baunei is great for families with kids and there's many crags which have only a short approach. On average the approaches are between 5-25min. ☀️❄️ By choosing a sunny or shady sector depending on the temperature, you can climb all year round in Baunei. But as there's many sunny sectors, the most suitable months are from September to May as it can get too warm in July and August. The great thing about Sardinia is that if it's too warm or cold in Baunei, there's nearly always other crags climbable nearby! For example Ulassai is a great option for warmer days. 🚗 ⛴ As Sardinia is an island you can arrive either with a ferry or plane. If you want a nice active holiday, having a car is pretty much a must. Without it you will unfortunately loose a lot of time with transportation, and it will be a struggle to get to many of the crags. The only exception to this is Ulassai, once reached, you can walk to majority of the crags from the village. Public transportation is "ok" for moving from one town to another, but it won't bring you to the trekking-climbing spots or beaches. If booked in advance, rentals have good prices. It's also good to prefer a slightly higher car, like a Panda, as there's often a dirt road to get to the most beautiful places. ⛺️🏡 Baunei area and Sardinia in general have all kinds of accomodations, but especially recommended are those run by people who are bolting and developing the climbing areas. Examples of these are for example Nannai in Ulassai and The Lemon house in Lotzorai - a town nearby Baunei. So if you want to help those working with the drill to make climbing possible, you know where to go! Beyond these, you'll find everything from the cheapest rental flats to fancy 4 stars hotels. The high seasons for tourism in Sardinia are April, July, August and October, so booking accommodation rather early is adviced during those months. 💪 These beautiful topos cover all the climbing routes in Baunei area. You can find all the details about different sectors from clicking them below. The authors of these topos, Slavek Dostal, Jan Kares and Ricky Felderer, are also the most active developers in the area!
Baunei topos
634 routes in 15 crags
---
Photos
308 photos shared by 12 climbers
---
Travel info
Best season
Baunei is especially great for winter, but Sardinia has options all year round!
How to get there?
Ferry or plane, and renting a car.
Where to sleep?
Many options available. The Lemon House is a great option in the area!
Other activites
Hiking, mountain biking, swimming, beaches, kitesurfing...
---
Get Baunei climbing guide to your smartphone
The most detailed climbing guide from Baunei starting at €2.91 / month.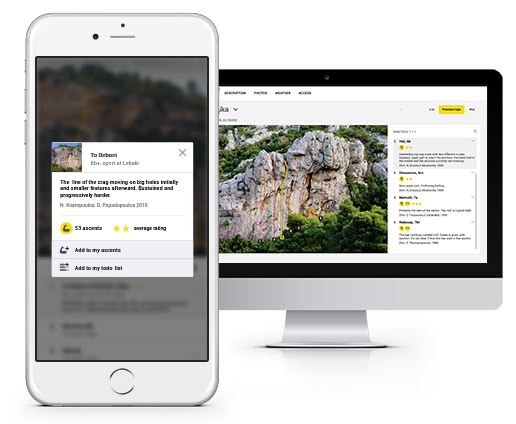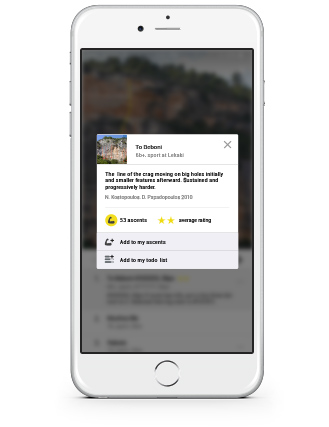 634 climbing routes with high-quality topo images and detailed descriptions from Baunei
The subscription also includes access to other 3421

Premium

crags around the world
Find crags and boulders with ease using in-app GPS
Use topos even when there's no Internet connection