Bouldering in Hoyamoros, Spain
Hoyamoros is a unique climbing destination with hundreds of boulders scattered around beautiful green meadows surrounded by mountains. The area is located in the west part of Spain, south of Salamanca and approximately 2h drive west from Madrid, at an altitude of 2200m above sea level. More than 800 problems will keep you busy for a while, and if that's not enough La Dehesa, which is only 20min drive from the Hoyamoros parking, offers hundreds of problems more! Both Hoyamoros and La Dehesa topos are included in the Premium subscription together with hundreds of other topos from Spain and all over the world. The rock is world class - compact granite which comes in all sizes and shapes. There's plenty of crimps, slabs and overhanging problems with dynamic and athletic moves. On average the blocs are 4-6m high and when it comes to difficulty, most of the problems range from 5 to 7C but there's also plenty of classic 8's to climb. Thanks to the high altitude Hoyamoros is a great option for spring, summer and autumn as the temperature tends to remain 5-10 degrees lower compared to the valley. On the other hand this means that climbing during winter is impossible as all the blocs are covered in snow. The uphill approach from the parking to the boulder area takes about 1,5-2h and works as a good warmup! Even though setting up a campsite is not allowed, it's possible to bivouac up in the area as long as one changes spot every 3 days and takes extra care of the nature. There's also a stream running through Hoyamoros and although the water not officially potable, most climbers drink from it without any issues. In summer though, it's better to drink close to the source near Cimata´s sector. Other option is to carry the water from Candelario. Regarding shopping, Candelario has some shops and a little supermarket. The regional cuisine is excellent and there are a lot of restaurants where you can enjoy traditional recipes like Calderillo, shake potatoes, boletus mushroom cream, regional batch and, of course, the famous Candelario´s lunchmeat! [Extra remarks] - The biodiversity conservation of this amazing environment should be one of the priorities of every climber visiting Hoyamoros. Remember to read the full information from the "description" part of the crag page below! - As Hoyamoros is rather hard to access and far away from civilization, remember to pay extra attention to safety. - Remember to download these topos offline in the app before going to the area! These topos are made by Mariano García, the author of the great bouldering guidebooks of Hoyamoros and La Dehesa.
Hoyamoros topos
2189 routes in 5 crags
---
Photos
21 photos shared by 4 climbers
---
---
Travel info
Best season
Spring, summer and autumn. Winter impossible due to the snow.
How to get there?
3h drive from Madrid and 1h from Salamanca. About 1,5-2h hike from the parking.
Where to sleep?
Bivouac, hostels and hotels in the area.
Other activites
Visiting the beautiful places of El Torreón, El Calvitero and Candelario.
---
Get Hoyamoros climbing guide to your smartphone
The most detailed climbing guide from Hoyamoros starting at €2.91 / month.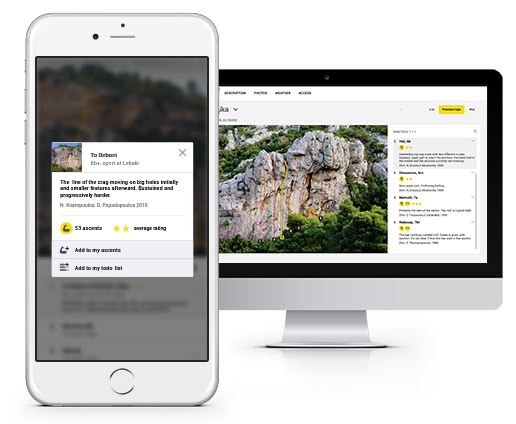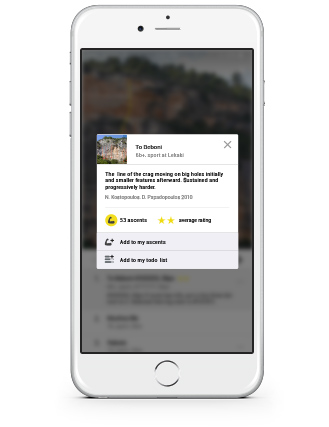 2189 climbing routes with high-quality topo images and detailed descriptions from Hoyamoros
The subscription also includes access to other 3431

Premium

crags around the world
Find crags and boulders with ease using in-app GPS
Use topos even when there's no Internet connection