Climbing in Kalymnos
Kalymnos is one of the most popular sport climbing destinations in the world. Greek food and culture, the mediterranean sea and world class climbing on steep orange limestone. Need we say more? Yes we do. Kalymnos is a Greek island situated in the Dodecanese sea. It's located at a 12h ferry-ride southeast of Athens. The well known holiday destination of Kos is just a 30min boat ride away. A third option to fly in would be the Turkish holiday destination Bodrum. Although the climbing on Kalymnos is world know for it's super steep walls and unbelievable caves littered with insane stalactites, tufa's and tufa-blobs, there is much more to find on this Island. Kalymnos counts about 60 sectors, scattered mostly on the East and Northeast side of the island. Another 10-ish sectors can be found in the island of Telendos which lies just a few minutes boat ride (€2) out of Myrties, one of the main accommodation centres. The climbing in these sectors varies from friendly beginner crags to 50m long endurance test-pieces through a 3D world of the strangest climbable features you'll every encounter. Slabs, vertical walls, overhang walls and insane caves, you will find it all on Kalymnos. Don't have a climbing partner do go with? Do not fear, Kalymnos is know for being a very sociable place and if you travel during the main season, you will definitely find new and old friends to give you a catch. Besides climbing, the Greek cuisine, beach and culture will keep you satisfied in the evenings and on restdays. All this combined also makes Kalymnos the perfect climbing destination for families. Even-though many cliffs are not very kids-friendly, partners can easily take turn on climbing days. Besides all the route information, 27 Crags Premium topos offer GPS navigation and offline use in the app. These guarantee you won't get lost while navigating to the right rock and that bad internet connection won't stop you browsing the topos! The 27 Crags Premium topos of Kalymnos are made and maintained by The Send and Steve and Sue, who you will find from Glaros Snackbar. By using these topos you support Glaros bolt fund and the development of Kalymnos!
Kalymnos topos
4481 routes in 69 crags
---
Photos
173 photos shared by 47 climbers
---
---
Travel info
Best season
Year round , but best September till November and March till (early) June
How to get there?
Best option: flight to Kos and ferry to Kalymnos
Where to sleep?
You will find a variety of hotels, apartments and studios.
Other activites
Visit Vathy and Palionisos. The archeological, Naval and Sponge mueseum in Pothia. A variety of hikes.
Recommended services in Kalymnos
---
Get Kalymnos climbing guide to your smartphone
The most detailed climbing guide from Kalymnos starting at €2.91 / month.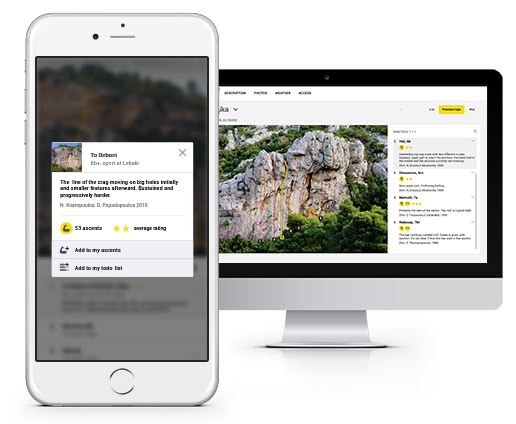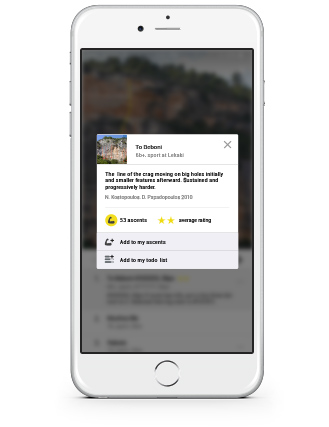 4146 climbing routes with high-quality topo images and detailed descriptions from Kalymnos
The subscription also includes access to other 3368

Premium

crags around the world
Find crags and boulders with ease using in-app GPS
Use topos even when there's no Internet connection