Climbing in Leonidio
In short time Leonidio has established it's place as one of the most exciting new sport climbing areas. This place offers hundreds of routes to choose from, and plenty of new ones are being opened every year. The climbing styles offer something for everyone: tufalovers are guaranteed to get their daily dose of pump, but there is also technical routes and crimps for the slabmasters. If this sounds good and you like having concentrated area with hundreds of routes and enjoy red limestone with well-bolted routes, then Leonidio is your place. The sheer amount of routes and areas guarantee that there is enough routes both for beginners and experienced climbers. Some of the crags can be reached by foot from the village, but many need a short drive up the mountains. The climbing area is located around the idyllic village of Leonidio which offers extremely friendly atmosphere and great cafe's and restaurants to choose from. 27 Crags Premium topos includes currently the major areas of Leonidio and more is being added!
Leonidio topos
793 routes in 15 crags
---
Photos
58 photos shared by 15 climbers
---
Travel info
Best season
Best season is from October to April but it's possible to climb even during the hot summer months thanks to the cool mountain winds.
How to get there?
Easiest option is to fly to Athens, rent a car and drive approximately 3h to Leonidio. Car is also needed to reach many of the sectors.
Where to sleep?
There's some hotels and hostels in the village and AirBnB is a good option too. Book early especially during the high seasons!
Other activites
Hiking and mountain biking are a good option for rest days. Also there's a beach close by if you wish to dip to the sea or make your climbing tan more even.
Recommended services in Leonidio
---
Get Leonidio climbing guide to your smartphone
The most detailed climbing guide from Leonidio starting at €2.91 / month.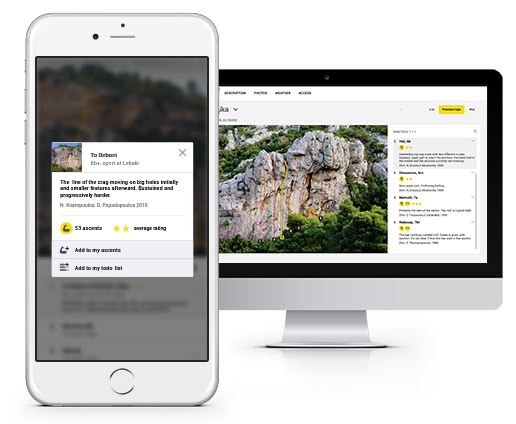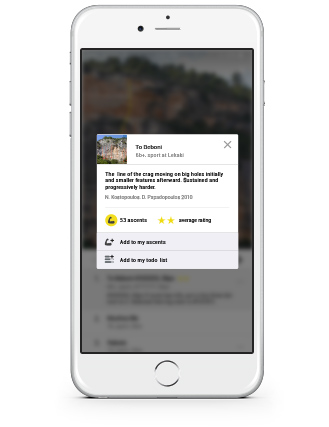 793 climbing routes with high-quality topo images and detailed descriptions from Leonidio
The subscription also includes access to other 3416

Premium

crags around the world
Find crags and boulders with ease using in-app GPS
Use topos even when there's no Internet connection