Sport Climbing in Lleida, Spain
The autonomous region of Catalunya lies in the northeast corner of Spain, bordered by France to the north and the Mediterranean Sea to the east. It has a rich, distinctive culture, its own unique language and great pride in its history. With over two-thirds of Catalunya's 7 million inhabitants living within 50km of the Mediterranean coastline, around the thriving cities of Girona, Barcelona and Tarragona, much of the interior remains sparsely populated. This is particularly true of Lleida, where other than the provincial capital itself (population 130,000) no town boasts more than 20,000 inhabitants. 🧗‍♂️🧗‍♀️ Fortunately for climbers, what the province lacks in people it more than makes up for in rock: from sandstone boulders in the rural south, up through the magnificent limestone gorges of Montsec, to the majestic granite peaks of the Catalan Pyrenees, Lleida offers a huge variety of climbing destinations, many of which rival the finest in Europe. In these 27 Crags topos we offer a selection of the best zones, ranging from popular and well-known areas to those whose routes have received no more than a handful of ascents. You'll find more information about each crag by clicking them below! ☀️❄️ Lleida is blessed with an excellent climate for rock climbing and it should be possible to find good conditions at just about any time of year. In winter, stable weather predominates, with very cold nights followed by clear sunny days. Spring and autumn weather can be more unpredictable, though both seasons generally afford a high proportion of climbing days. As with much of the Mediterranean, summers here can be extremely hot. However, Lleida is blessed with four major zones, Camarasa, Fígols, Tres Ponts and Cavallers, which are perfect for the warmer months, the first three because of their favourable orientation, while the fourth, Cavallers, lies at an altitude of almost 2,000m in the Catalan Pyrenees. Furthermore, many of the traditional winter 'sun rock' zones often feature the odd shaded sector, providing comfortable climbing conditions on all but the hottest of days. 🚐✈️ There are excellent motorway links to Lleida from the rest of Spain, as well as from mainland Europe. Visitors from further afield will probably choose to fly to one of Catalunya's three major airports, Girona, Barcelona or Reus. Public transport is generally very good in Catalunya and there are excellent rail and bus links throughout much of Lleida province. However, we recognize that the majority of climbers will probably choose to explore the area by car, either their own or a rental vehicle, and it seems appropriate to issue a word of warning regarding the unsurfaced tracks found on approaches to some of the cliffs in this guidebook: at the time of writing (and unless otherwise mentioned in the specific approach information) in dry conditions all are passable in 'normal' (non 4x4) vehicles providing one takes sufficient care. However, heavy rain may change the state of a track drastically over a very short period of time or even trigger rockslides rendering it impassable. Hire-car drivers, in particular, should bear in mind that even the extended insurance policies offered by many companies do not cover damage to the undersides of their vehicles (it is stated in the small print). In adverse conditions it may well be preferable to change plans of venue for the day rather than risk a costly mishap. Many foreign climbers visit Catalunya in camper vans and in cases where a sector approach requires off-road driving on unsurfaced tracks, the largest of these are simply not suitable vehicles for the purpose. Advice is given in the approach descriptions where this applies. 🏕🏠 The Lleida region is well geared for tourism of all types and the variety of accommodation on offer ranges from rural campsites to 5* hotels. In summer, camping can be a very pleasant option: the sites are generally immaculately clean and often feature amenities such as swimming pools, laundry rooms and bar/restaurants. From autumn to spring most visitors require a roof more substantial than canvas. Here are some of the options: 1) Campsite Bungalows: available on many sites that stay open throughout the year, and other than in peak season, usually require no pre-booking. 2) Refugis/Albergues: these establishments offer bed (usually dormitory-style but smaller rooms are sometimes available) as well as board (half and full), if required. Some also have cooking facilities for those wishing to prepare their own meals. 3) Hostals and Hotels: many in the area have surprisingly reasonable rates given the levels of comfort they offer, particularly in the off-peak season. 4) Cases Rurals (country houses): ranging from the basic to the luxurious, for parties of 4 people or more wishing to self-cater, this is often the best solution. 🎒 A 70 metre single rope and around 15 quickdraws will be sufficient for all but a very few of the one-pitch routes. Climbs longer than 35 metres invariably feature intermediate lower-off points, though the rock on some of the 'super-pitches' at places like Oliana and Santa Linya is so steep that these are sometimes impractical (it is virtually impossible to regain contact with the rock!) and 80 metre ropes then become essential. Multi-pitch routes: Lleida province is home to cliffs of up to 600m in height, and offers a wealth of multi-pitch climbing experiences, ranging from the fully bolted to no bolts at all. These all feature bolt belays and protection and can be climbed with a typical sport climbing rack — a 70m single rope and 15 quickdraws— though a few additional screwgate karabiners are useful for belays. For routes where rappel descents are specified a second rope may be required. The wearing of helmets on multi-pitch routes is strongly recommended, as the risk of stonefall (both naturally occurring or triggered by other teams climbing above) is considerably greater on the bigger cliffs than at single-pitch venues. 🕶 For rest days, Lleida province is home to some of the wildest and grandest landscapes in Western Europe and visiting climbers should by no means miss out on the many superb walking routes in the area. For those seeking cultural experiences, the city of of Barcelona, with its magnificent architecture, is within easy reach for a day's sightseeing. These topos are made by Pete O'Donovan and Dani Andrada who are active climbing area developers and the authors of the Lleida Climbs printed guidebook. 💪
Lleida topos
5621 routes in 38 crags
---
Photos
119 photos shared by 23 climbers
---
Travel info
Best season
Climbing possible throughout the year. Best season from autumn to spring.
How to get there?
Driving or flying to Girona, Barcelona or Reus.
Where to sleep?
Everything from campsites to 5* hotels.
Other activites
Hiking, visiting Barcelona
---
Get Lleida climbing guide to your smartphone
The most detailed climbing guide from Lleida starting at €2.91 / month.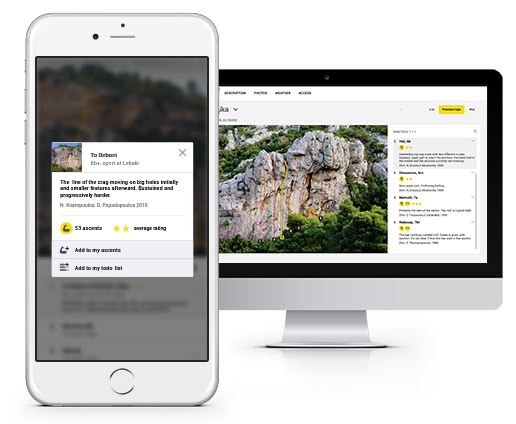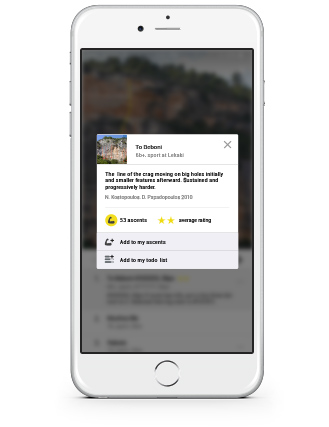 3979 climbing routes with high-quality topo images and detailed descriptions from Lleida
The subscription also includes access to other 3401

Premium

crags around the world
Find crags and boulders with ease using in-app GPS
Use topos even when there's no Internet connection