Sport Climbing in Siurana
For many climbers, Siurana doesn't need much of an introduction. Besides the professional climbers who frequent these limestone walls especially in the winter, it has become one of the most known sport climbing destinations in Europe suitable for all levels. Siurana has a high concentration of grey and orange limestone walls offering more than 1700 routes. The climbing itself is often sustained, technical and featured with crimps so training your stamina before heading there will help. Despite the great amount of climbers visiting the place, the routes are not too polished. Siurana is also a unique in a sense that it's possible to visit it without a car once you're up since many of the crags are within walking distance. When it comes to practicalities and rest day activities, it's definitely worth visiting the historical Siurana village up on a cliff especially during sunset. Cornudella de Montsant village down from the crags offers cafes, restaurants, climbing shop and small grocery stores. In case you're curious to visit other climbing places too, you'll also have places like Montsant and Margalef near by. With 27 Crags Premium you get all these topos and so much more! Topos of Siurana & Montsant are done by Toni Arbones, who was one of the first climbers discovering Siurana in the 90's and since then he has been relentlessly bolting new routes for all of us to enjoy.
Siurana topos
2252 routes in 12 crags
---
Photos
46 photos shared by 16 climbers
---
---
Travel info
Best season
Best seasons autumn and spring. By choosing the right crags climbing all year round possible.
How to get there?
From Barcelona airport about 1,5h driving. When up in Siurana, car is not necessarily required.
Where to sleep?
Camping Siurana, AirBnb apartments in Cornudella de Montsant and hotel in Siurana.
Other activites
Visiting the village of Siurana and other climbing areas including Margalef and Montsant.
---
Get Siurana climbing guide to your smartphone
The most detailed climbing guide from Siurana starting at €2.91 / month.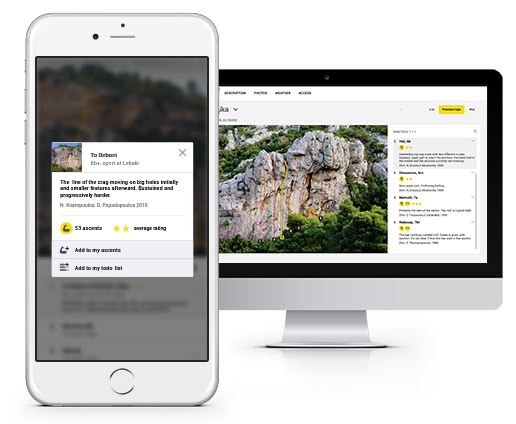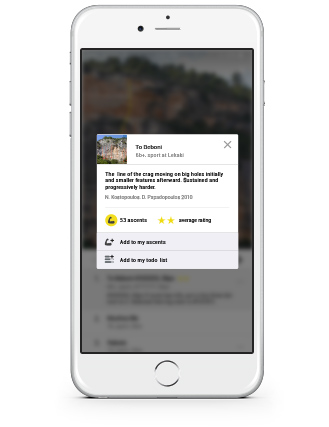 1876 climbing routes with high-quality topo images and detailed descriptions from Siurana
The subscription also includes access to other 3307

Premium

crags around the world
Find crags and boulders with ease using in-app GPS
Use topos even when there's no Internet connection