Climbing in Ulassai, Sardinia
Welcome to Ulassai, where climbing is good and time goes slow. This beautiful ancient village, surrounded by even more ancient rocks, has in the past years developed to one of the must-visit sport climbing destinations in Europe. The combination of exceptional limestone, climber friendly atmosphere and concentrated climbing area, makes many people return here time after time. 🧗‍♂️🧗‍♀️ Whether it's easy rock, hard rock, jugs, crimps, pockets, the odd tufa,... Ulassai always delivers. The area is especially generous for those climbing between 6-8th grades. There's also a great choice of very hard lines, so Ulassai is very suitable place for going for your max! The bolting in Ulassai is safe and well-thought, with crags being updated and maintained by the local climbers. Ideally you bring an 80m rope and rack of 16 quickdraws. ☀️❄️ The different orientations of the rock faces makes Ulassai an all year round climbing hot spot. Due to the altitude of 800m the prime season is from March to October, as in the winter it can get windy and rather cold. But even in that case there's a good chance to find warmer crags not so far from Ulassai. The different orientation of the crags also allow climbing in different wind conditions. Even when the strong mistral wind is blowing, you can find sheltered crags! 🏡⛺️ Ulassai and Jerzu have different accommodation options available from B&B's, AirBnB's and hotels. There's also a campsite in the making which should start operating in summer 2021. If you'd like to support the local climbing development and enjoy super friendly climbing vibes in your accommodation, Nannai Climbing House is the best choice! Besides the great atmosphere, the village provides a small supermarket and some cafes and restaurants to spend the evening at. Jerzu, a bigger village next doors, has even more services available. With 90% of the climbing sectors being at a walking distance from the village square, you can easily come here without a car or simply park it and enjoy life on foot. 🛠 Climbing in Ulassai started around the year 2000 with the motivated Gianluca Piras, Maurizio Oviglia, Cecilia Marchi, Simone Sarti, Fabrizio Dessi and Gianpaolo Mocci. In 2011 the Nannai Climbing Family arrived, formed by 6 friends hungry for rock, community and a different lifestyle. They started bolting tirelessly and got the necessary help from their friends, such as Klaas Willems, Raphael Thomele, Lorin Etzel and Thomas Dauser. Besides putting a lot of their own silver on the rock, they got the necessary help from Pro Loco Ulassai, Commune di Ulassai and many other comrades. Many lines bolted by the Nannai team are sponsored by friends and family. Yes, a true climbing community! Bolting is a sport on its own. Finding the right balance between challenge and safety is crucial. It is hard work, sometimes dangerous but very rewarding in the meantime. This is where sport climbing starts and all we ask in return is a sign of appreciation. Central in this story is the guidebook, as it serves as a financial backbone to the development and crag maintenance. So even though these 27 Crags topos support bolting too, next time you see a shiny anchor, please consider buying the guidebook also! You can find it in any local shop or bar in the village. It will flawlessly pair with your 27 Crags topos and ticklist! 💎 What will the future bring for climbing in Ulassai? Whatever it is, the village is in the center of it all. Climbing might give the village new opportunities, and Ulassai gives us so much in exchange: lifestyle, amazing local products, nature and even the odd lesson in life. Come with an open mind and let Ulassai inspire you. These beautiful topos covering climbing in Ulassai, Jerzu and Osini are made by the Nannai Climbing Family, and using these topos supports the local development.
Ulassai topos
1195 routes in 15 crags
---
Photos
59 photos shared by 9 climbers
---
Travel info
Best season
Possible throughout the year, prime seasons are spring and autumn.
How to get there?
Ferry or plane to Sardinia. Once in Ulassai, car is not necessary.
Where to sleep?
Many options available. Big recommendation to Nannai Climbing House!
Other activites
Hiking, mountain biking, visiting the beach 30min away.
---
Get Ulassai climbing guide to your smartphone
The most detailed climbing guide from Ulassai starting at €2.91 / month.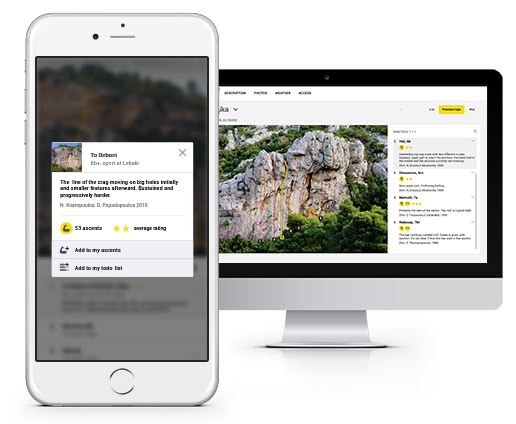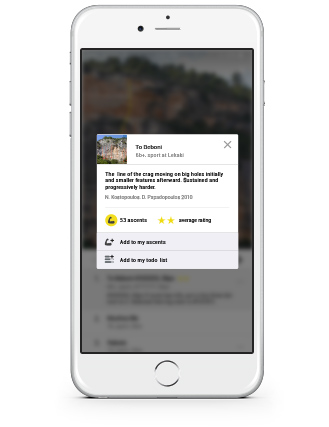 1195 climbing routes with high-quality topo images and detailed descriptions from Ulassai
The subscription also includes access to other 3416

Premium

crags around the world
Find crags and boulders with ease using in-app GPS
Use topos even when there's no Internet connection